[Event report] World Tourism Day Event 'Tourism" Education" for All'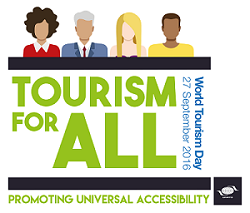 To celebrate "World Tourism Day", a special seminar 'Tourism "Education" for All' was held at Abeno-Harukas Campus of Hannan University in Osaka on the 28th of September co-hosted by Wakayama University, Hannan University and Kansai Tourism Education Consortium.
At the beginning of this seminar, Professor Kumi Kato (Deputy Director of CTR/Assistant Dean of the Faculty of Tourism) gave a brief introduction of the UNWTO and World Tourism Day (WTD) with a special video message from Dr. Taleb Rifai, the Secretary General of UNWTO to celebrate WTD.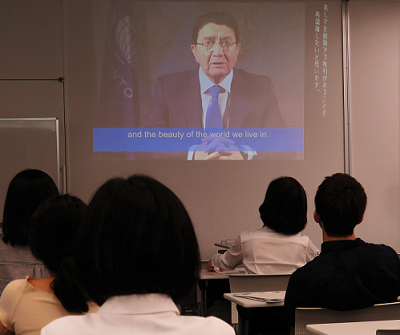 UNWTO Secretary General's message
As a keynote speaker, Professor Richard Sharpley, Pprofessor at University of Central Lancashire, and also Distinguished University Professor at Wakayama University delivered a special lecture titled 'Tourism "Education" for All' named after "Tourism for All" which was the theme of WTD 2016.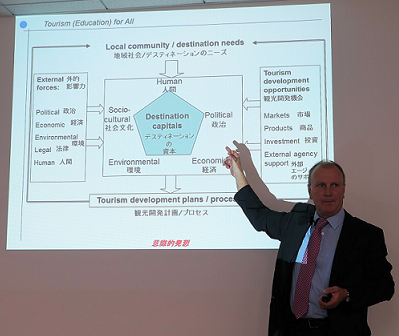 Prof. Richard Sharpley
Professor Sharpley stated in his speech that tourism is a business therefore we should avoid falling into anthropocentrism through tourism development cases. He concluded by stating that tourism education is a way of solution to motivate awareness of responsibility on tourism development.
At this event, copies of "UNWTO Tourism Highlights 2016 Japanese version" were provided to all participants. This Japanese version of UNWTO Tourism Highlights was translated in collaboration with the Wakayama University student project team. The team also gave a presentation on the contents of Tourism Highlights and their effort.

Copies of the Global Code of Ethics for Tourism (GCET), which was adopted as a comprehensive set of principles designed to guide key-players in tourism development were also handed out to all participants and the poster on GCET was on display at the venue.
It was a celebrating event for World Tourism Day, digested concepts of UNWTO.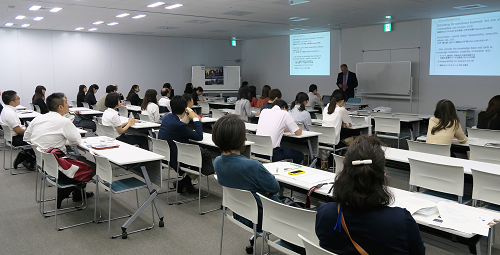 ---
◆ World Tourism Day (27 September)
A commemoration day for fostering awareness among the international community of the importance of tourism and its social, cultural, political and economic value. For more details, please visit wtd.unwto.org