[Conference presentation] Presented papers at the 23rd APTA Annual Conference
Five researchers (Prof. Yuichi Hirooka, Prof. Yuji Yashima, A/Prof. Kaede Sano, Dr. Hayato Nagai and Dr. Amnaj Khaokhrueamuang) from Wakayama University's Center for Tourism Research (CTR) presented their work at the 23rd Asia Pacific Tourism Association (APTA) annual conference held in Busan, Korea between 18th and 21st June 2017. Two PhD students from Wakayama University's Graduate School of Tourism, Mr. Ricardo Nicolas Progano and Mr. Hermann Kimo Boukamba also presented their research project.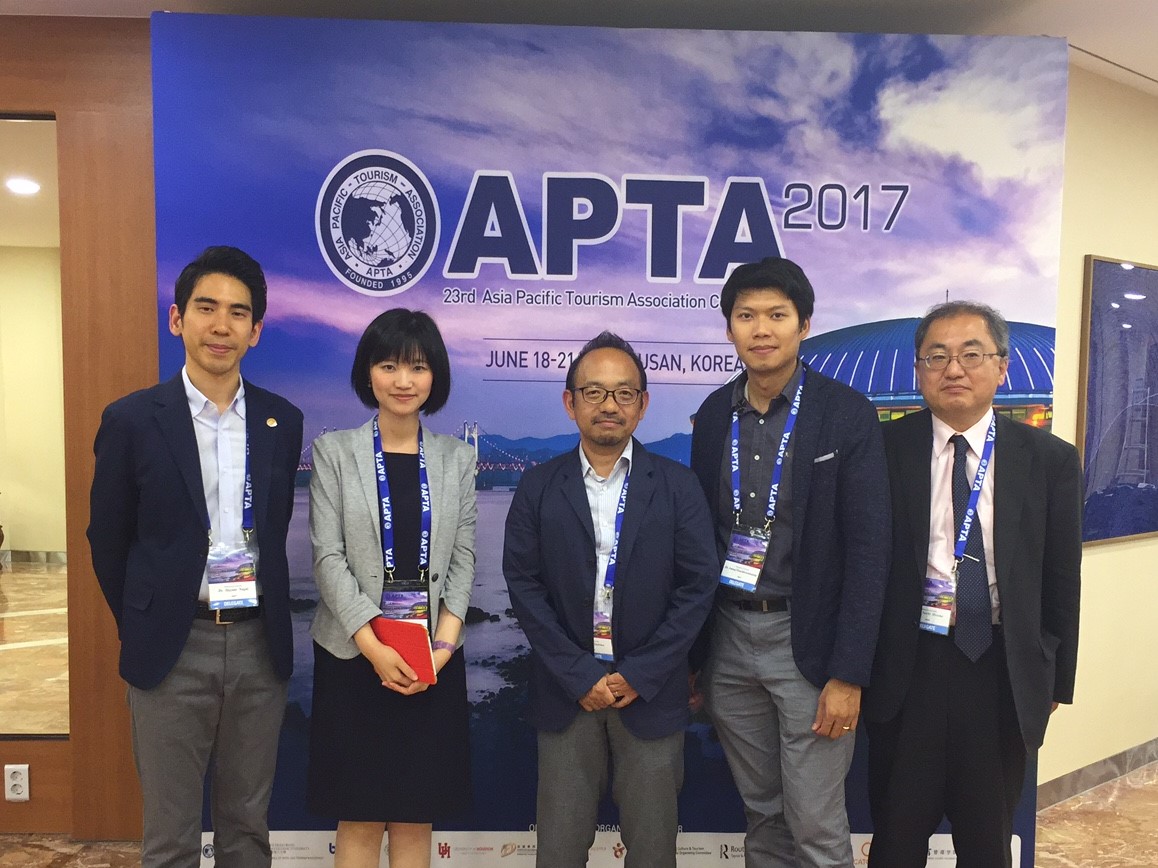 CTR researchers (from left) Nagai, Sano, Yashima, Khaokhrueamuang and Hirooka.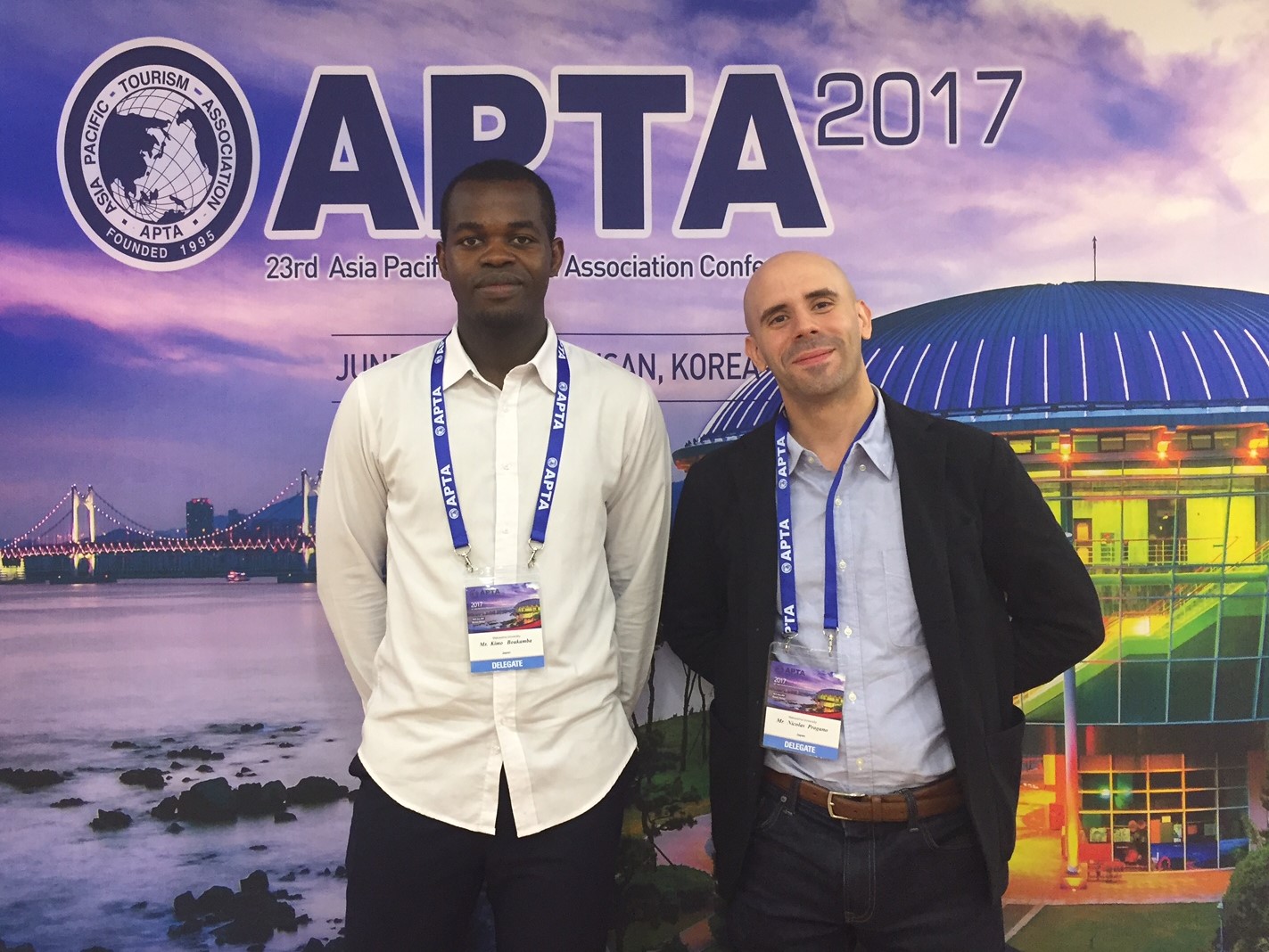 PhD students (from left) Boukamba and Progano.
APTA, established in 1995, is one of the most active international academic associations in the field of tourism and hospitality in the Asia-Pacific region. A SSCI listed journal Asia Pacific Journal of Tourism Research is published by the APTA. About 250 academics from Asia and other part of the world attended this year's conference provided a great platform for academics to exchange their research ideas.
Wakayama University CTR has been a sponsor for the APTA Annual Conference since 2015. As a conference sponsor, Wakayama University's logo was displayed in the conference venue during the conference and CTR researchers expanded their international network.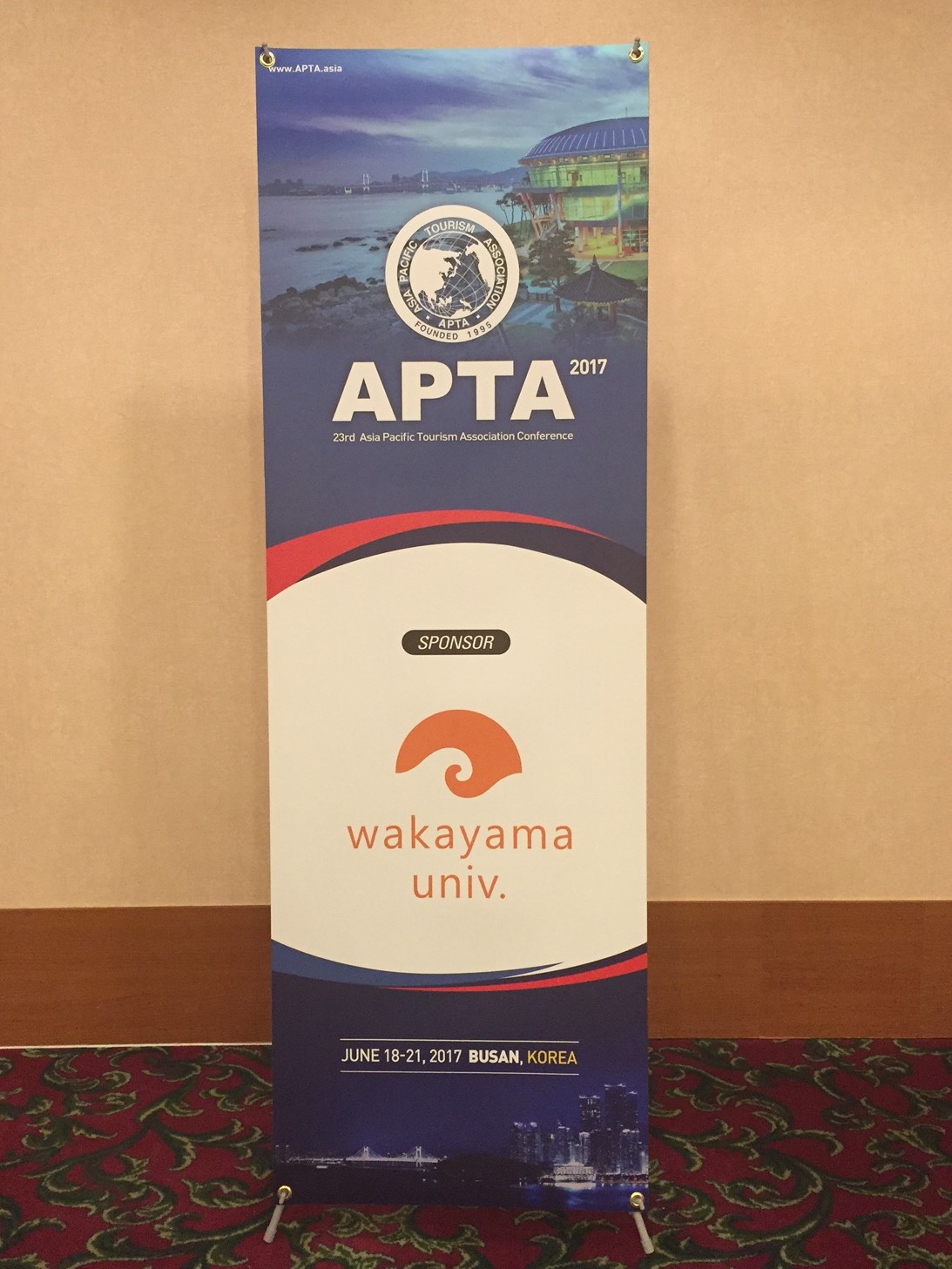 <Papers presented by Wakayama University's researchers and PhD students>
Ÿ   CROSS-NATIONAL VISITOR MOTIVATION IN PILGRIMAGE SITES: KUMANO KODO'S NAKAHECHI ROUTE AS CASE STUDY (Ricardo Nicolas Progano)
Ÿ   MEASURING CROSS-BORDER ETHNOCENTRIC TENDENCIES TOWARDS THE CONSUMPTION OF TOURISM EXPERIENCES (Hermann Kimo Boukamba)
Ÿ   LOCAL TOURISM PRACTITIONERS' VIEWS ON THE EMERGENCE OF THE DMO CONCEPT IN JAPAN: AN EXPLORATORY STUDY (Hayato Nagai, Adam Doering & Yuji Yashima)
Ÿ   FOOD TOURISM POTENTAIL BASED ON SUFFICIENCY ECONOMY AGRICULTURE IN CHOM CHAENG VILLAGE, THAILAND (Amnaj Khaokhrueamuang)
Ÿ   ADOPTING RECOMMENDATIONS FROM GUIDEBOOKS AND WOM WEBSITES: A STUDY OF JAPANESE INTERNATIONAL TOURISTS (Kaede Sano & Hayato Nagai)
Ÿ   EXPLORING TOURISTS' DINING CHOICE PROCESS AT A FOREIGN DESTINATION: THE CASE OF YOUNG AUSTRALIAN TOURISTS IN JAPAN (Toyohiko Sugimoto & Hayato Nagai)
APTA 2017 Annual Conference http://www.apta2017.org/
APTA http://apta.asia/