[Seminar] Sport Tourism Development: Considering Sustainability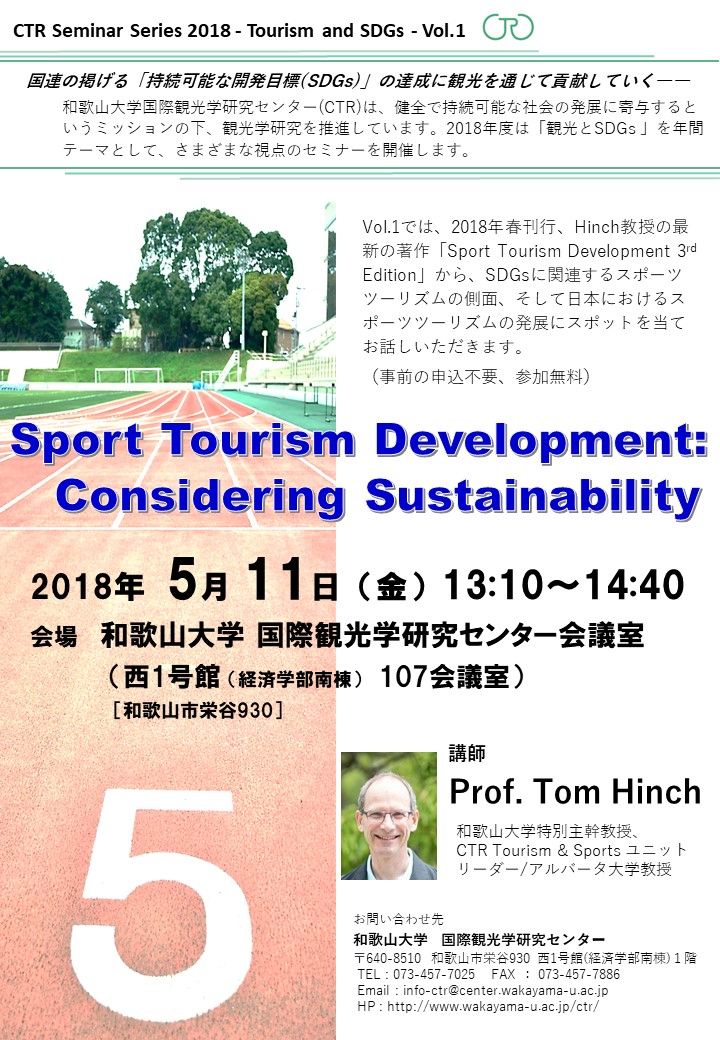 Flyer(Japanese) (Download/PDF file)
Tourism can contribute to the achievement of the United Nation's Sustainable Development Goals (SDGs) ―
Center for Tourism Research (CTR), Wakayama University, will hold a Seminar Series 'Tourism and SDGs' throughout 2018 under our mission; contribute to the development of a sound and sustainable society through the advancement of tourism research. Dr. Tom Hinch rolls out this seminar series featuring sport tourism.
*This seminar will be conducted in English.
*No registration, no registration fee required.
Theme
CTR Seminar Series 2018 - Tourism and SDGs - Vol.1
Sport Tourism Development:Considering Sustainability
This seminar will discuss the process and content of the 3rd Edition of Sport Tourism Development (Higham & Hinch) to be released in the Spring of 2018. This seminar will feature aspects of the book that relate to the UN's Sustainable Development Goals. New dimensions of the book related to Japan will also be highlighted.
Date
Friday, 11 May, 2018
Time
13:10~14:40
Venue
CTR Conference Room 107, Bldg. West 1, Wakayama University
(Sakaedani 930, Wakayama-city)
Speaker
Dr. Tom Hinch
(Distinguished University Professor; CTR Tourism & Sports Research Unit Leader at Wakayama University / Professor of the Faculty of Kinesiology, Sport, and Recreation, University of Alberta)
Contact
Center for Tourism Research
Wakayama University
Sakaedani 930, Wakayama-city 640-8510, JAPAN
E-mail: *Click here to the Contact page.