[Seminar] Sustainable Development Goals - Academic collaboration with the tourism industry and local communities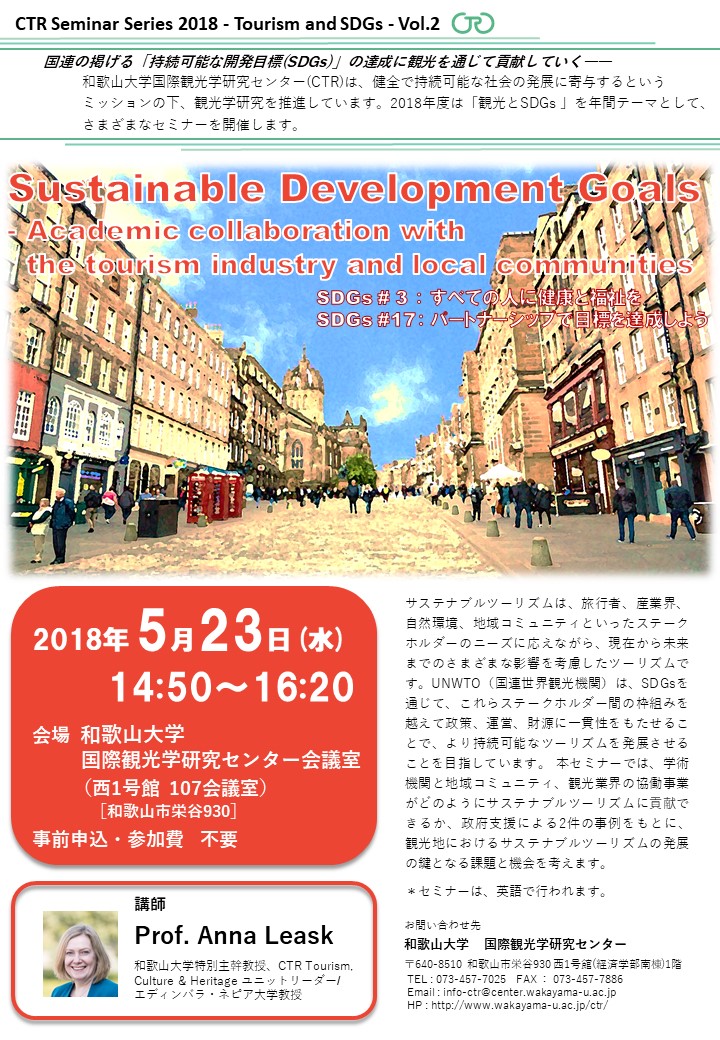 Flyer(Japanese) (Download/PDF file)
Tourism can contribute to the achievement of the United Nation's Sustainable Development Goals (SDGs) ―
Center for Tourism Research (CTR), Wakayama University, will hold s Seminar Series 'Tourism and SDGs' throughout 2018 under our mission; contribute to the development of a sound and sustainable society through the advancement of tourism research. Dr. Anna Leask will introduce two collaborative projects for sustainable tourism development in destinations by focusing on SDG17 'Partnerships for the goals' and touching on SDG3 'Good health and well-being' for all at all ages.
*This seminar will be conducted in English.
*No registration, no registration fee required.
Theme
CTR Seminar Series 2018 - Tourism and SDGs - Vol.2
Sustainable Development Goals - Academic collaboration with the tourism industry and local communities
Sustainable tourism is defined as being tourism that considers the current and future impacts in meeting the needs of stakeholders such as visitors, industry, the environment and communities. The new Sustainable Development Goals developed by the UNWTO aim to encourage a more sustainable tourism sector by aligning the policies, operations and funding across the stakeholders. This seminar will consider the issue of how collaborative projects between academic institutions, local communities and the tourism industry can support this development within and across destinations. Two examples of government funded projects that brought together these stakeholders will be used to highlight the key challenges and opportunities in achieving more sustainable tourism development in destinations.
Date
Wednesday, 23 May, 2018
Time
14:50~16:20
Venue
CTR Conference Room 107, Bldg. West 1, Wakayama University
(Sakaedani 930, Wakayama-city)
Speaker
Dr. Anna Leask
(Distinguished University Professor; CTR Culture & Heritage Research Unit Leader at Wakayama University / Professor at Edinburgh Napier University)
Contact
Center for Tourism Research
Wakayama University
Sakaedani 930, Wakayama-city 640-8510, JAPAN
E-mail: *Click here to the Contact page.