[Seminar] Reducing Vulnerability for International Tourists and the Japanese Tourism Industry: Towards a Tourist Hazard Information System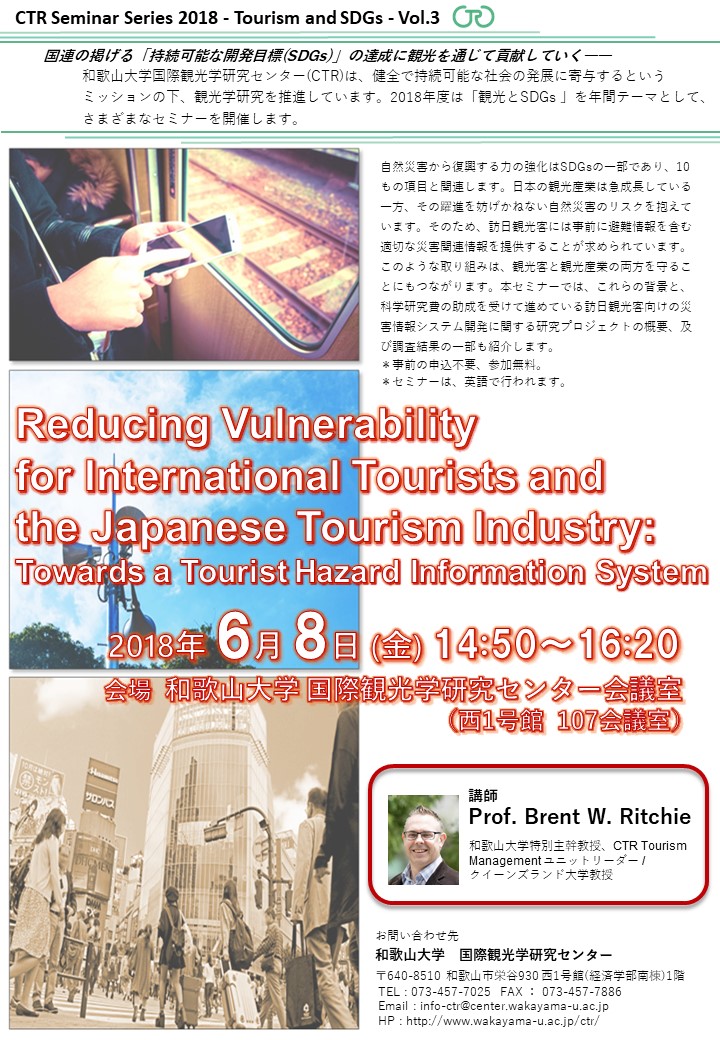 Flyer(Japanese) (Download/PDF file)
Tourism can contribute to the achievement of the United Nation's Sustainable Development Goals (SDGs) ―
Center for Tourism Research (CTR), Wakayama University, will hold s Seminar Series 'Tourism and SDGs' throughout 2018 under our mission; contribute to the development of a sound and sustainable society through the advancement of tourism research. Dr. Brent W. Ritchie will introduce disaster risk management in Japanese tourism industry and his research project.
*This seminar will be conducted in English.
*No registration, no registration fee required.
Theme
CTR Seminar Series 2018 - Tourism and SDGs - Vol.3
「Reducing Vulnerability for International Tourists and the Japanese Tourism Industry: Towards a Tourist Hazard Information System」
Increasing resilience to natural disasters is part of the UN Sustainable Development Goals, cutting across 10 goals. Japan's tourism industry is growing significantly yet Japan is prone to natural disasters which can negatively affect tourism. International tourist need information on potential hazards in advance as well as credible and timely disaster evacuation information in the evident of an actual natural disaster. This is crucial to safeguard both tourists and the tourism industry which relies on a safe country image. This seminar will provide background to the issue and outline progress from a JPSS Kaken funded project which aims to develop a hazard information system for international tourists. A preliminary results of the first stage of data collection is also presented.
Date
Friday, 8 June, 2018
Time
14:50~16:20
Venue
CTR Conference Room 107, Bldg. West 1, Wakayama University
(Sakaedani 930, Wakayama-city)
Speaker
Dr. Brent W. Ritchie
(Distinguished University Professor; CTR Tourism Management Unit Leader at Wakayama University / Professor at the University of Queensland)
Contact
Center for Tourism Research
Wakayama University
Sakaedani 930, Wakayama-city 640-8510, JAPAN
E-mail: *Click here to the Contact page.