[Conference presentation] Presented papers at the Critical Tourism Studies Asia Pacific Inaugural Biennial Conference
Critical Tourism Studies-Asia Pacific (CTS-AP) was established in 2016 as a regional branch of Critical Tourism Studies (CTS). A research session, 'Sustainability & Tourism' organized by CTR Tourism & Sustainability Unit inspired the launch of CTS-AP.
The first CTS-AP conference themed as 'Re-centering Critical Tourism Studies' was took place from 3rd to 6th March, 2018 at Gadjah Mada University in Indonesia. CTR sponsored the conference, and CTR researcher, Dr. Adam Doering contributed to it as a member of the organizing committee as well as the scientific committee. Three researchers, two staff and ten students (3 PhD, 5 Masters, 2 Bachelors) from Wakayama University participated to the conference among 161 scholars and students from 23 countries. The second CTS-AP conference will be hosted by Wakayama University in February, 2020.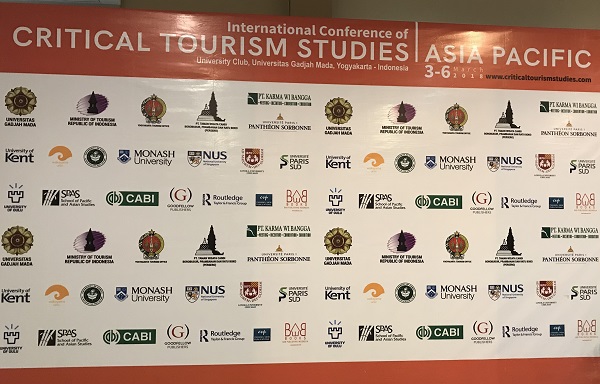 Papers presented by Wakayama University's researchers and students:
Ÿ   Contending Deep Japan - A spiritual tourism and inbound strategy. (Chiho Nishigomi)
Ÿ   Impacts of solar eclipse tours on local communities: the case of Babul in Kalimantan. (Riho Obara)
Ÿ   An ethnographic study of multilingual landscape of rural tourist destinations: the case of Kumano Kodo. (Kurara Kishi)
Ÿ   Study of the Influence on the local community by surf tourism: a case of Tatsugo town, Kagoshima prefecture. (Kondo Maki)
Ÿ   How can tourism contribute in enhancing the intangible cultural heritage of local community? The Case Study of Date Palm Festival, Siwa Oasis. (Mina Kamal Asham Shafiek)
Ÿ   School closures and community re-development in rural Japan: Succession and creation of cultural capital in Makuni, Wakayama. (Shuhei Tamura)
Ÿ   Exploring the relationship between a religious sacred site and spiritual tourists: a case study of a Buddhist sacred site, Koyasan in Japan. (Kaori Yanata)
Ÿ   Role and Challenges of Tourism in Disaster Reconstruction. Re-conceptualizing Dark Tourism through the Case of the Mt. Merapi eruption, Indonesia. (Hikaru Kenchu)
Ÿ   Possibility of interactive effects on women's empowerment and sustainable tourism development. (Minako Okada)
Ÿ   Could Rural Cycling as Sustainable Mobility Increase Women's Empowerment? (Yoko Seto)
Ÿ   Living with Fukushima's "contaminated" sea: Life, leisure and tourism in the wake of Disaster. (Adam Doering)
Ÿ   Wood Girls, Agri-Women& Fisher-enne: women empowering sustainable tourism in rural communities in Japan. (Kumi Kato, Yumi Oura, Junko Ueda)
◆CTS-AP https://www.criticaltourismstudies.com/
◆CTS-AP 2018 Inaugural Biennial Conference https://www.criticaltourismstudies.com/inaugural-conference-march-3-6-2018.html