From Pragmatist Discussion to Pragmatist Projects in Leisure Research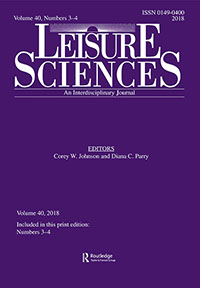 A research paper written by CTR Visiting Fellow, Dr. Shintaro Kono (Southern Illinois University *current) was published in the International Journal of the Leisure Sciences.
Title
From Pragmatist Discussion to Pragmatist Projects in Leisure Research
Author
Shintaro Kono, Physical Education and Recreation, University of Alberta, Alberta, Canada
Source
Leisure Sciences, 2018, 40(3), 216-222
DOI: 10.1080/01490400.2016.1256797
https://doi.org/10.1080/01490400.2016.1256797
*Indexed in Scopus
Source details:https://www.scopus.com/sourceid/28910?origin=sbrowse
Abstract
Although the paradigmatic discussion has encouraged leisure scholars to critically examine their inquiry assumptions (Parry, Johnson, & Stewart, 2013), Henderson (2011) and Neville (2013) provided critical comments from pragmatist perspectives on the dominance of the paradigmatic framework in the leisure literature. However, it remains unaddressed what it means to adopt pragmatism for leisure researchers who undertake empirical research. The purpose of this article is to offer a starting point to apply pragmatist discussion and pragmatism to empirical leisure research projects. I first describe implications of John Dewey's pragmatism for an empirical inquiry while contrasting them with ontological and epistemological concerns in the paradigmatic schema. Second, I critically reflect upon my previous leisure research project from the Deweyan perspective. I identify several research stages wherein pragmatist leisure scholars should be aware of implications of their inquiry philosophy, including research question formulation, research design and methodological choice, and research outcome report.
Key words
empiricism; mixed methods research; paradigm; philosophy of science; pragmatism