[Event] CTR Research Forum 2018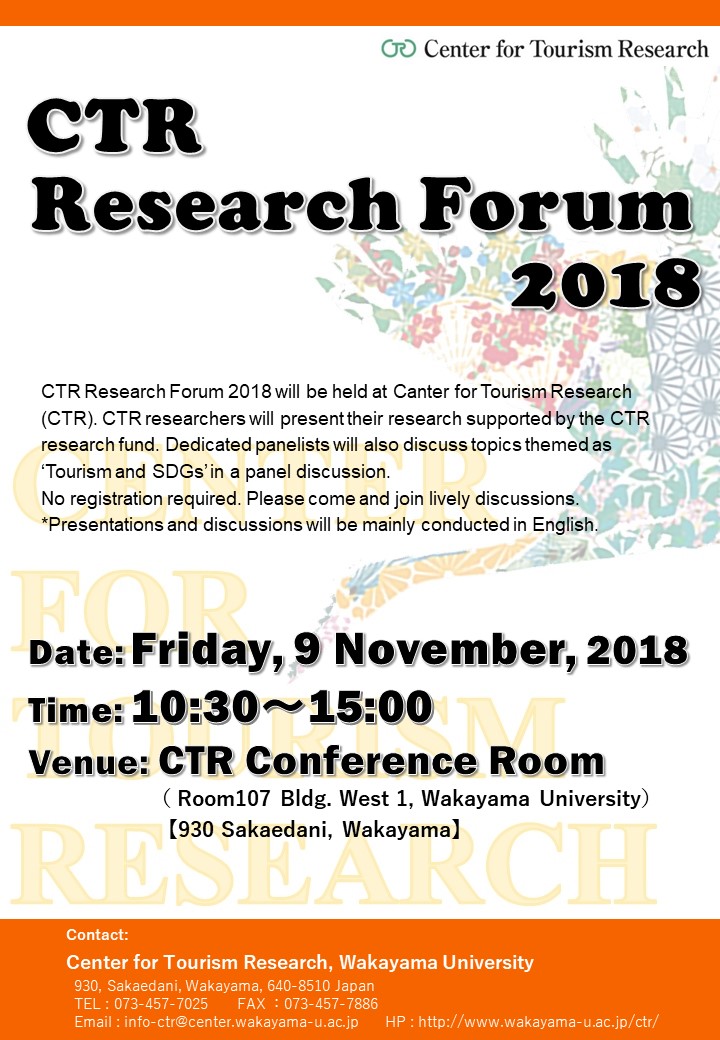 CTR Research Forum 2018 will be held at Canter for Tourism Research (CTR). CTR researchers will present their research supported by the CTR research fund. Dedicated panelists will also discuss topics themed as 'Tourism and SDGs' in a panel discussion.
No registration required.
Please come and join lively discussions.
*Presentations and discussions will be mainly conducted in English.
CTR Research Forum 2018
Time
Friday, 9 November, 2018
Date
10:30~15:00
Venue
CTR Conference Room [Room 107, Bldg. West 1, Wakayama Univertisy]
(Sakaedani 930, Wakayama, 640-8510)
Program
10:30
Opening 
Presentations
   
10:35
Adam Doering
Living with Fukushima's "Contaminated" Sea: Life, Leisure and Tourism in the Wake of Disaster
10:55
Abhik Chakraborty
Ecotourism Model for Shiretoko Peninsula UNESCO World Heritage Site
11:15
Graham Miller
(Kumi Kato)
Tourism & SDGs: Exploring corporate commitment to sustainability – exploring motivation and activities: Japan case
11:35

Panel Discussion

Theme: Tourism and SDGs

Moderator:
Kumi Kato (Director, Center for Tourism Research / Professor, Faculty of Tourism)

Panelists:
Adam Doering (Associate Professor, Center for Tourism Research),
Abhik Chakraborty (Lecturer, Center for Tourism Research),
Amnaj Khaokhrueamuang (Lecturer, Center for Tourism Research)

12:20
Lunch Break (Poster presentations of research units) 
Presentations  
     
13:10
Yuji Yashima
Competitive advantage in tourism destination - focusing on the role of executive directors
13:30
Tom Hinch
(Eiji Ito)
Research, Lifelong Sport, and Travel: Exploring Pathways to Sustainability
13:50
Hayato Nagai
(Takahiro Ikeji)
Exploring residents' attitude toward short-term rentals in Japan
14:10
Hayato Nagai
Non-Host Residents' Perceptions of Mega-Events and Their Impacts on Regional Revitalization
14:30
Richard Sharpley
Dark tourism and difficult histories: Mediating the past and the present in Japan
14:50
Discussion 
15:00
Closing 
Poster presentations
CTR research units below will present their research activities in 2018.
* Poster presentations by research units on display throughout the forum.
Tourism & Food, Agriculture Unit
Tourism & Space, Mobility Unit
Tourism & Digital Media, Information Unit
Tourism & DMO Unit
Contact
Center for Tourism Research
Wakayama University
Sakaedani 930, Wakayama-city 640-8510, JAPAN
E-mail: *Click here to the Contact page.