[Seminar] Resident Sentiment of Tourism: Construct and Model Development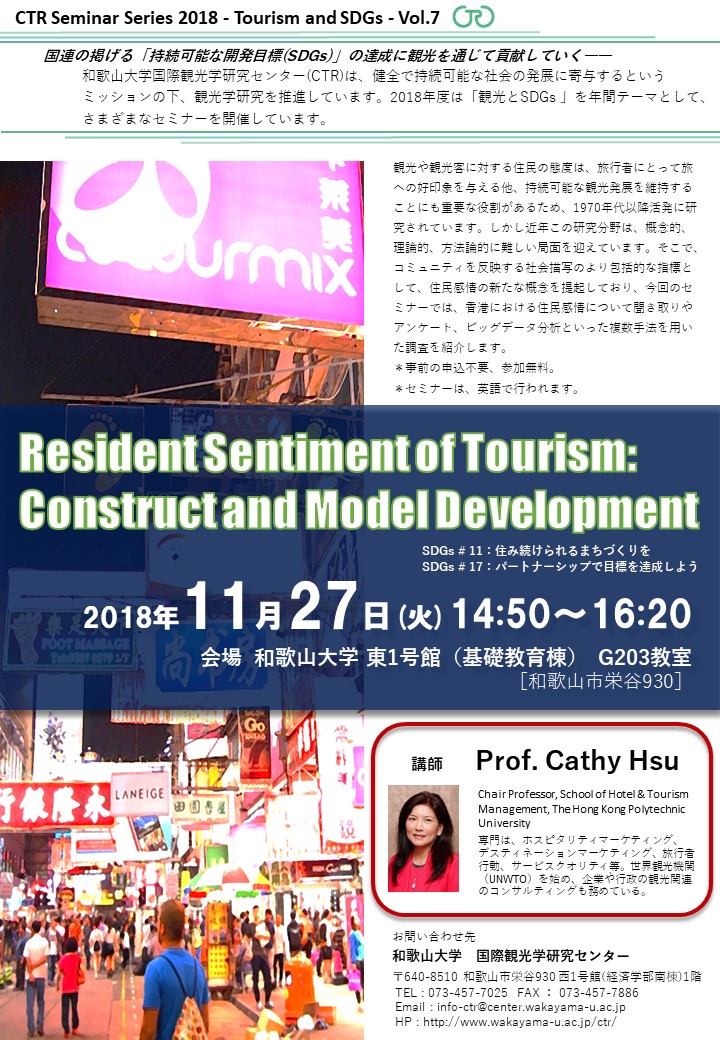 Flyer(Japanese) (Download/PDF file)
Tourism can contribute to the achievement of the United Nation's Sustainable Development Goals (SDGs) ―
Center for Tourism Research (CTR), Wakayama University, holds Seminar Series 'Tourism and SDGs' throughout 2018 under our mission; contribute to the development of a sound and sustainable society through the advancement of tourism research.
Prof. Hsu (CTR Short Term Visiting Fellow / The Hong Kong Polytechnic University) will propose a new model of resident attitude, resident sentiment for sustainable tourism development.
*This seminar will be conducted in English.
*No registration, no registration fee required.
Theme
CTR Seminar Series 2018 - Tourism and SDGs - Vol.7
Resident Sentiment of Tourism: Construct and Model Development
Resident attitude towards tourism impacts or tourists in general has been a popular research area since the 1970s, because of the crucial role of resident attitude in creating positive tourist experience and maintaining sustainable tourism development. However, this line of research has been increasingly challenged in recent years, from conceptual, theoretical, or methodological perspectives. We put forward a new concept, resident sentiment, as a more encompassing indicator of social representations shared by the local community. This seminar will report on a study using multiple methods, including interviews, survey, and big data sentiment analytics, to investigate resident sentiment in the context of Hong Kong.
Date
Tuesday, 27 November, 2018
Time
14:50~16:20
Venue
Room 203, Bldg. East 1, Wakayama University
(Sakaedani 930, Wakayama-city)
Speaker
Professor Cathy Hsu
(Chair Professor, School of Hotel & Tourism Management, The Hong Kong Polytechnic University)
Her areas of research expertise are hospitality and destination marketing, tourist behavior, service quality etc., and extensive work includes consulting contributions to various tourism organizations, such as the UNWTO and Kansas Travel and Tourism Development Division.
Contact
Center for Tourism Research
Wakayama University
Sakaedani 930, Wakayama-city 640-8510, JAPAN
E-mail: *Click here to the Contact page.