Peak-bagging and cartographic misrepresentations: a call to correction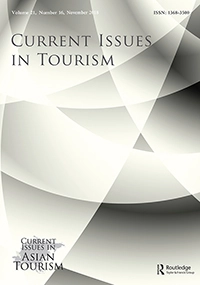 A co-authored paper contributed by CTR researcher, Prof. Joseph M. Cheer was published in an academic journal, Current Issues in Tourism.
Title
Peak-bagging and cartographic misrepresentations: a call to correction
Authors
Michal Apollo, Department of Tourism and Regional Studies, Institute of Geography, Pedagogical University of Cracow, Cracow, Poland
Joanna Mostowska, Faculty of Geography and Regional Studies, University of Warsaw, Warsaw, Poland
Kamil Maciuk, Department of Integrated Geodesy and Cartography, AGH University of Science and Technology, Krakow, Poland
Yana Wengel, Hainan University – Arizona State University Joint International Tourism College (HAITC), Hainan, People's Republic of China
Thomas E. Jones, College of Asia Pacific Studies, Ritsumeikan Asia Pacific University, Oita, Japan
Joseph M. Cheer, Center for Tourism Research, Wakayama University, Wakayama-city, Japan
Source
Current Issues in Tourism, 2020
DOI: 10.1080/13683500.2020.1812541
https://doi.org/10.1080/13683500.2020.1812541
*Indexed in Scopus
Journal details: https://www.scopus.com/sourceid/28324
Abstract
Tourists put their trust in maps and guidebooks and they expect information within to be accurate. Unfortunately, vital information can often be incorrect such as the accuracy of altitude above sea level. Cartographic misrepresentations and the impact on tourism is the focus of this study. Altitude data from maps, guidebooks and summit signs were compared with professional measurements made by precise Global Navigation Satellite Systems receivers. Findings revealed significant discrepancies in reported peak altitudes ranging from a few and up to several hundred metres. Evidently, some of the highest summits of the mountain ranges are subject to degradation and/or change over time and this underlines cartographic misrepresentations. There are possibly other inaccuracies in scores of popular peaks around the globe and rectifying erroneous information is vital for peak-bagging visitors. The results of this exploratory stud have significant implications for the management and marketing of destinations when a mountain's popularity is based around being the highest.
Key words
Mountaineering; cartographic errors; travel bucket list; ego tourism