[Event] CTR Research Forum 2020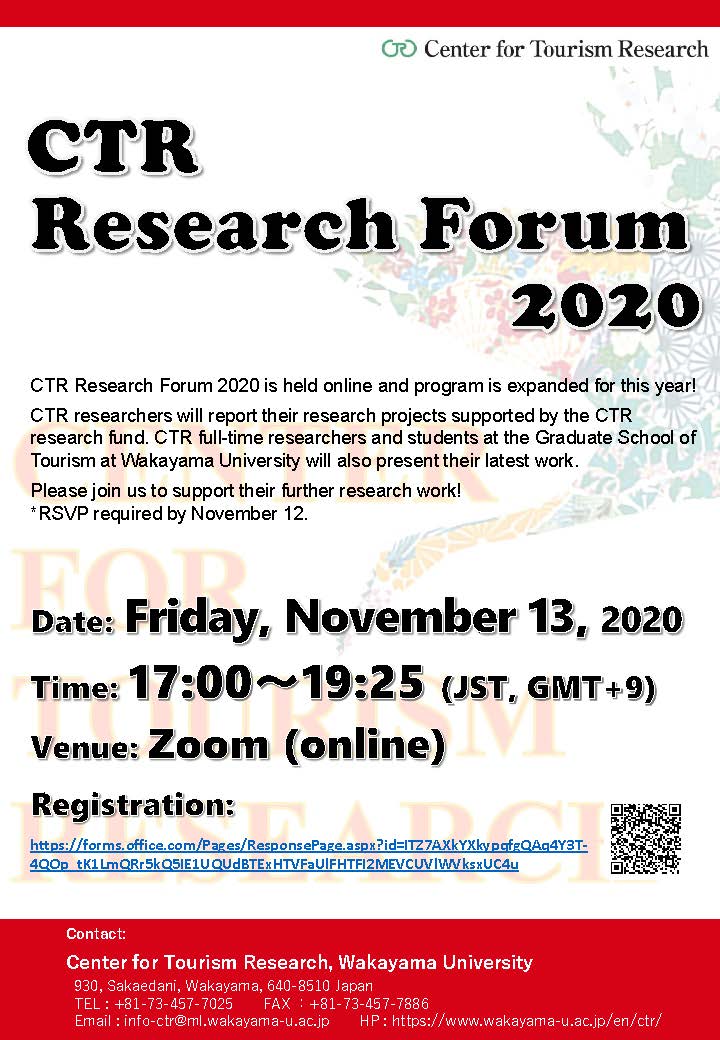 Flyer(Download/PDF file)
CTR Research Forum 2020 is held online and program is expanded for this year!
CTR researchers will report their research projects supported by the CTR research fund. CTR full-time researchers and students at the Graduate School of Tourism at Wakayama University will also present their latest work.
Please join us to support their further research work!
*RSVP required by November 12.
CTR Research Forum 2020
Time
Friday, 13 November, 2020
Date
17:00~19:25
Venue
Zoom (Online)
Please update your Zoom app to the latest version for privacy and security.
Please check the Zoom official website.
Program
Book of Abstracts(Download/PDF file, 14MB)
Registration
Secure your 'seat' here.
*If you cannot access the register form, please access here (https://forms.gle/CApG8tAR5uuheaedA).
*Since the space is limited, the registration may close before the due date.
*We will handle your contact details in line with our Privacy Policy .
Contact
Center for Tourism Research
Wakayama University
Sakaedani 930, Wakayama-city 640-8510, JAPAN
E-mail: *Click here to the Contact page.