[Webinar] Social Entrepreneurs between Self-Determination and Structural Constraints: Examples from Tokushima and Miyagi Prefecture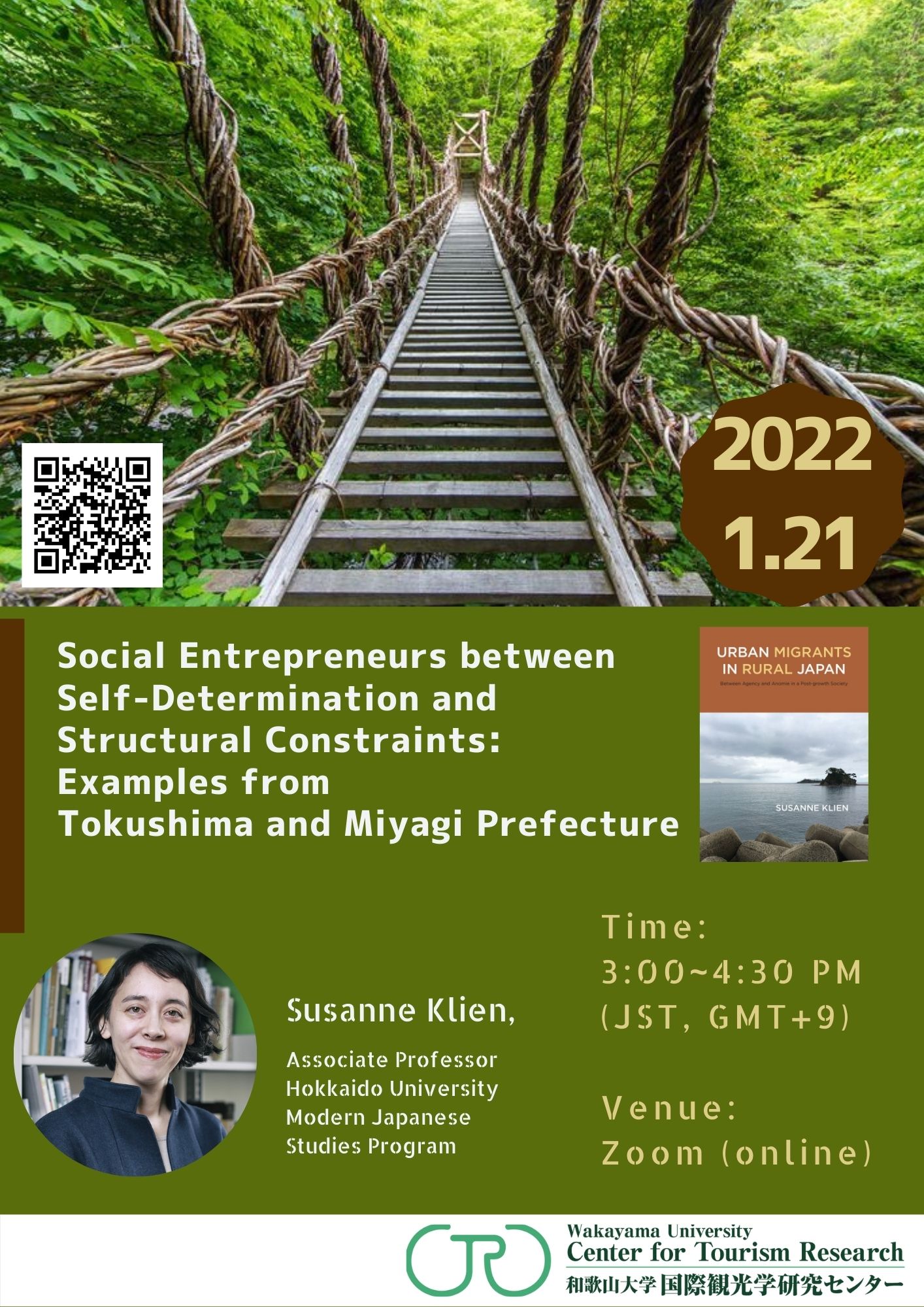 Flyer (Download/PDF file)
 Center for Tourism Research (CTR), Wakayama University, holds a Webinar. Associate Prof. Dr. Susanne Klien (Modern Japanese Studies Program, Hokkaido University, Japan) will talk about one chapter of her publication: Urban Migrants in Rural Japan: Between Agency and Anomie in a Post-growth Society (SUNY Press 2020)
Register now and join us for free of cost.
Theme
Social Entrepreneurs between Self-Determination and Structural Constraints: Examples from Tokushima and Miyagi Prefecture
Overview
In this talk I discuss one chapter from my recent monograph Urban Migrants in Rural Japan: Between Agency and Anomie in a Post-growth Society (SUNY Press 2020). Rural Japan has seen a recent rise in interest in young individuals who wish to pursue lifestyles that are personally more fulfilling to them than conventional corporate careers. Many of the new settlers initiate their own entrepreneurial activities. I focus on the motivations of small-scale entrepreneurs, explore what challenges they face and discuss what impact the recent pandemic and the ensuing halt in tourism has had on individuals. I argue that these cases illustrate the recent shift of rural areas from stagnant backwaters to experimental grounds and hold hope for a diversification of lifestyles. Yet, individual narratives and practices also indicate that postwar social norms continue to persist.
Podcast on New Books Network: https://newbooksnetwork.com/urban-migrants-in-rural-japan
Related publications: 
2022 "Localized, yet deterritorialized lives in rural Japan: Fragmented localities, mobility and neoliberalism" in Sonja Ganseforth and Hanno Jentzsch (eds.), What is the Local: Rethinking the Politics of Subnational Spaces in Japan, Nissan Institute/Routledge Japanese Studies Series, pp. 37-51. https://www.routledge.com/Rethinking-Locality-in-Japan/Ganseforth-Jentzsch/p/book/9780367469481
2019 "Entrepreneurial selves, governmentality and lifestyle migrants in rural Japan", Asian Anthropology 18/2, (Chinese University of Hong Kong/Taylor & Francis), pp. 75-90. https://www.sunypress.edu/p-6846-urban-migrants-in-rural-japan.aspx
Date
Friday, January 21, 2022
Time
3:00~4:30 PM (JST, GMT+9)
Venue
Zoom (online)
Please update your Zoom app to the latest version for privacy and security.
Please check the Zoom official website. 
Speaker
Associate Prof. Dr. Susanne Klien (Modern Japanese Studies Program, Hokkaido University, Japan)
Susanne Klien is Associate Professor at the Modern Japanese Studies Program, Hokkaido University. Her main research interests include demographic change and alternative forms of living and working in post-growth Japan, changing local traditions and rituals and transnational mobility. Her recent book Urban Migrants in Rural Japan: Between Agency and Anomie in a Post-growth Society (SUNY Press 2020) was awarded the 2020 CHOICE Outstanding Academic Title.
Registration
Secure your 'seat'here
*Since the space is limited, the registration may close before the due date.
*We will handle your contact details in line with our Privacy Policy. 
Contact:
Center for Tourism Research Wakayama University
Sakaedani 930, Wakayama-city 640-8510, JAPAN
 E-mail:*Click here to the Contact page.