[Workshop] CTR workshop series Session 1 "Getting Published: A Practical Guide"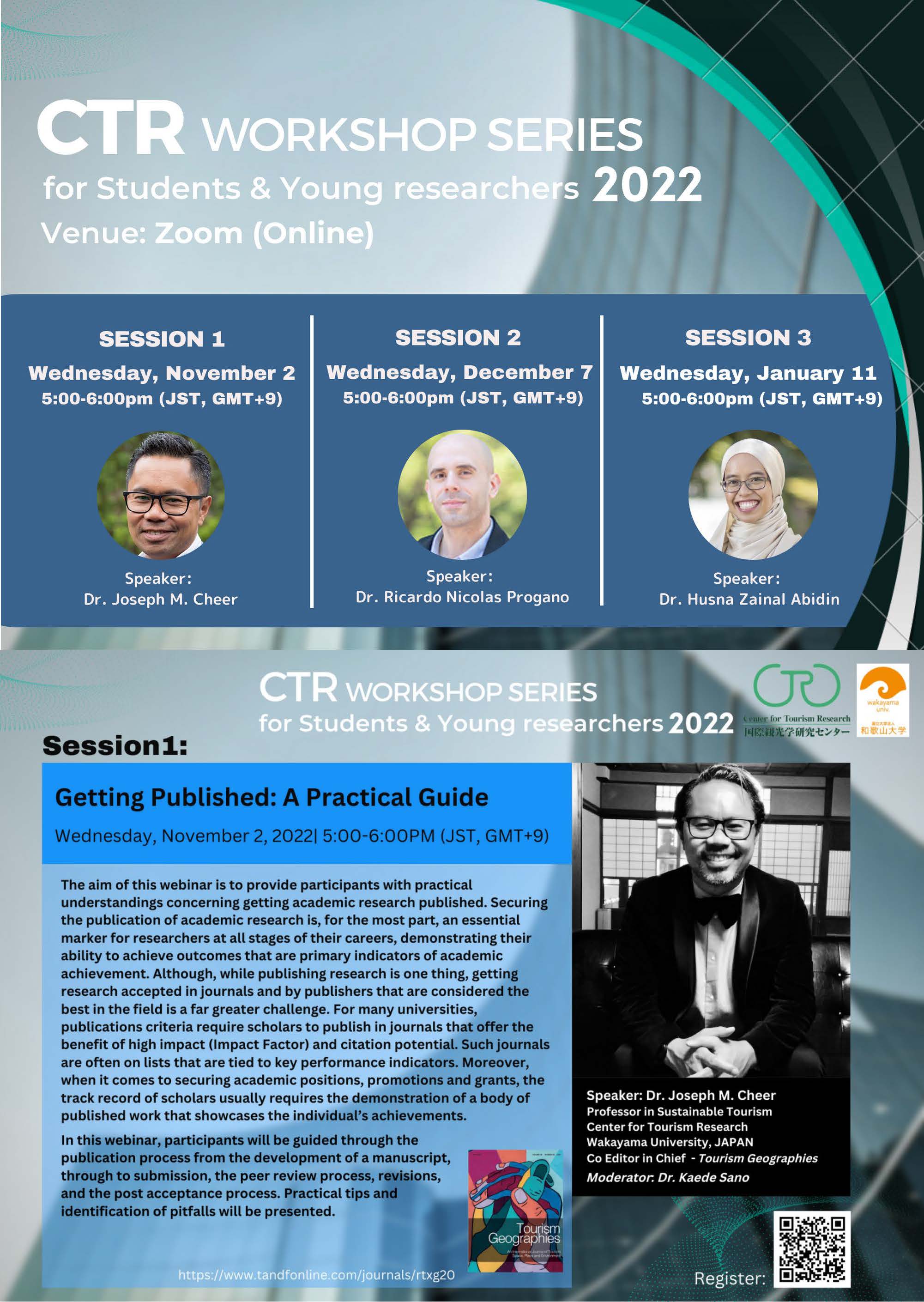 Flyer (Download/PDF file)
Center for Tourism Research (CTR), Wakayama University, holds online workshop for students and young researchers.
This workshop will be held in a series of three sessions.
In the first session, Dr. Joseph M. Cheer, CTR research staff and Co Editor-in-Chief of the journal Tourism Geographies, will present the process and practical tips for writing, submitting and publishing academic articles.
Register now and join us for free of cost.
Theme
CTR workshop series for students and young researchers
Session 1 "Getting Published: A Practical Guide"
Overview
The aim of this webinar is to provide participants with practical understandings concerning getting academic research published. Securing the publication of academic research is, for the most part, an essential marker for researchers at all stages of their careers, demonstrating their ability to achieve outcomes that are primary indicators of academic achievement. Although, while publishing research is one thing, getting research accepted in journals and by publishers that are considered the best in the field is a far greater challenge. For many universities, publications criteria require scholars to publish in journals that offer the benefit of high impact (Impact Factor) and citation potential. Such journals are often on lists that are tied to key performance indicators. Moreover, when it comes to securing academic positions, promotions and grants, the track record of scholars usually requires the demonstration of a body of published work that showcases the individual's achievements. In this webinar, participants will be guided through the publication process from the development of a manuscript, through to submission, the peer review process, revisions, and the post acceptance process. Practical tips and identification of pitfalls will be presented.
Date
Wednesday, November 2, 2022
Time
5:00~6:00 PM (JST, GMT+9)
Venue
Zoom (online)
Please update your Zoom app to the latest version for privacy and security.
Please check the Zoom official website. 
Speaker
Dr. Joseph M. Cheer (Professor, Center for Tourism Research, Wakayama University, Japan)
Joseph M. Cheer is a professor in sustainable tourism at Center for Tourism Research, Wakayama University, Japan, as well as Visiting Professor UCSI University, Malaysia and Adjunct Professor AUT, New Zealand. He has taught and attended as a visiting researcher and lecturer at universities in Spain, Sweden, Netherlands, Sri Lanka, Taiwan, China, India, Fiji, Vanuatu, Canada, United States, New Zealand and Australia. He is Co Editor-in-Chief of the journal Tourism Geographies, according to Scopus Cite Score Tracker (5 August, 2022) as the first ranked journal in the Tourism, Leisure & Hospitality Management subject area and second in Geography, Planning & Development. Joseph is also founding Chief Topic Editor for the new Frontiers in Sustainable Tourism, and on the editorial boards of other journals including; Sustainability, SHIMA, Tourism Management Perspectives, Tourism Planning & Development, Tourism Review and CABI Cases, among others. His body of work is characterised by the publication of over 10 books and over 70 journal articles and book chapters. He has received research funding from Japan Society for the Promotion of Sciences (JSPS), Australia Research Council (ARC), Australia-Japan Foundation, Australia-China Council, Japan Foundation, Australia Department of Foreign Affairs & Trade (DFAT), and Tourism Research Australia, among others.
Moderator: Dr. Kaede Sano (Associate Professor, Faculty of Tourism, Wakayama University, Japan)
Registration
Secure your 'seat'here
*Since the maximum number of participants is 100, the registration may close before the due date.
*We will handle your contact details in line with our Privacy Policy. 
Contact:
Sakaedani 930, Wakayama-city 640-8510, JAPAN
 E-mail:*Click here to the Contact page.